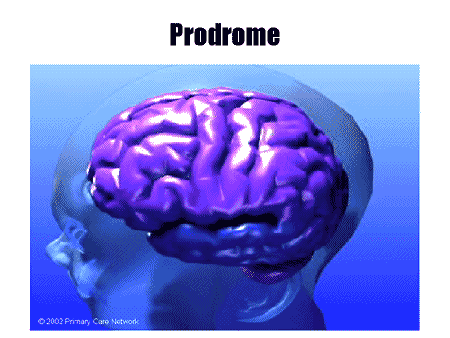 Migraine is more than just a headache. In fact, many migraineurs have found their migraines appear in four separate stages.

PRODROME is the first stage. Once you start to learn the specific symptoms you have during prodrome, you may be able to lessen the severity of your migraines by removing yourself from triggers and taking your abortive medication sooner.

What are some of the symptoms of prodrome?
Physical symptoms:
Neck stiffness
Altered perception of hot and cold
Increased thirst
Increased urination
Food cravings and/or loss of appetite
Yawning
Constipation 
Diarrhea
Fluid retention
Sensitivity to light and/or sound
Psychological symptoms:
Depression
Euphoria
Irritability
Restlessness
Hyperactivity
Fatigue
Drowsiness
Difficulty in concentration
Fun fact: Generally prodrome symptoms arrive 2-48 hours before a migraine.
What symptoms do you have during prodrome? Do your family and friends understand prodrome? Has noticing prodrome symptoms helped ease the severity of your migraine attacks?
The rest of my series on migraine pain:
Works Cited/For More Info: